Important Links:
Links to Each of Our
Sterilization Clinics in Volcan
May 2, 2017-Possible Prison
for Abusers
Why and How This Program Began in Volcan
Standing invitation to local vets in various areas
Spay/USA - lots of good information here
Injectable Vitamin C:
A miracle cure!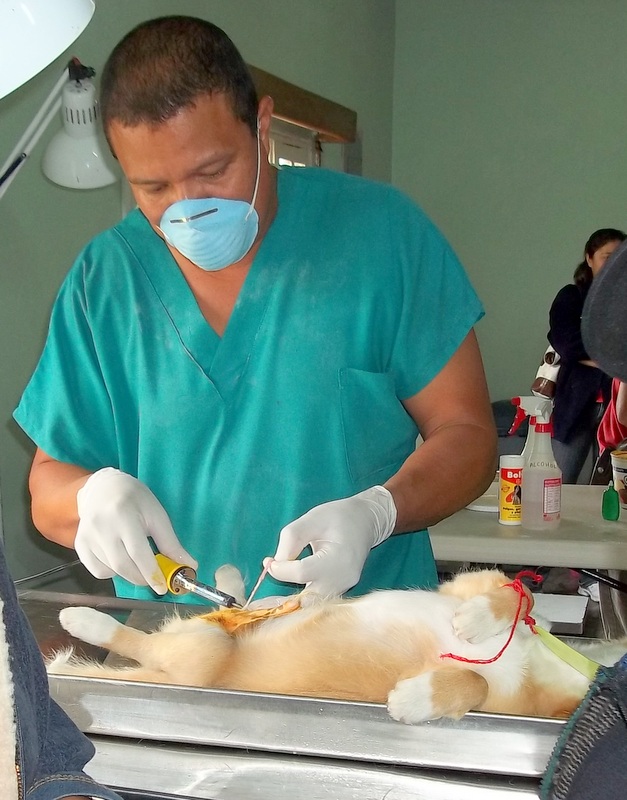 By Dorothy Atwater, Volcan, Chiriquí, Panamá:
Here in the highlands of Panama, in March of 2006 I and a few helpful volunteers began a mission to end the suffering of dogs and cats - often homeless, starving, and diseased - and to help educate people that their pets have feelings and need love, proper food, shelter, and water. We primarily provide low-cost spaying and neutering to the less advantaged Panamanians. I request $25 per dog and $15 per cat (less than my actual cost) but no one is turned away for inability to pay. The requested donation includes injections for the anesthesia, for pain, inflammation, anti-parasite, a long-lasting antibiotic, vitamin B-12, and treatment for fleas and ticks--plus a small payment to our excellent veterinarian. Thanks to his kind heart and dedication to the animals, he works very hard at our clinics for much less than what he earns in his busy private practice.
In addition to the overpopulation problem, venereal disease is rampant in both male and female dogs in Panama. It is eventually fatal to both males and females. It is spread every time an infected male or female has sex. You usually won't know if your male or female dog has the disease until it reaches the advanced stage. At advanced stages, if you are paying close attention, you may notice some bleeding from the vagina of a female dog (which may be misinterpreted as being in heat)...or bleeding from the male dog's penis. The tumors can be surgically removed but can be done successfully only by a SKILLED vet like Dr. Andres Tello from Costa Rica who operates at our clinics.
Please keep in mind: In 7 years a female cat and her off springs can be the source of 420,000 kittens. In 6 years a female dog and her off springs can be the source of 67,000 puppies. Unless your dog/cat is totally confined and unable to continue the population increase (AND the spread of venereal disease), please do the humane thing of having them sterilized!
For the health and safety of your dog/cat, however, have the sterilization performed by a competent vet who is experienced in early sterilization (eight weeks of age and up) and small-incision surgeries, and one who closes with stainless steel sutures....like Dr. Tello, who we are so fortunate to have operate at our clinics. (I do not trust care of my dogs to ANYONE except Dr. Tello. If any of my 20 rescued dogs has a problem between clinics that I and my employee can't solve ourselves, I call Dr. Tello and arrange to meet him with my dog at the border of Panama/Costa Rica.) I also arrange to take injured dogs to him that I find in the street.
We now hold our clinics once a month in Volcan, except for December. Please contact me for the dates of future sterilization clinics....and please donate. Except for our veterinarian--who work at our clinics for a pittance, really--neither I nor anyone else connected with the clinics receives any pay. I rent the building where we hold the clinics, and I buy all the anesthesia, medications, instruments, supplies, and equipment. I have no offices, no salaries, no advertising. Every penny goes for the animals. This is a project from my heart, and I pay the deficits from my own pocket.

Please see links at the left for more important information.
Dorothy Atwater
Volcan, Chiriquí, Panamá
507-6517-8752 (cell phone)
email: muffiemae@gmail.com
And see my many rescues (my family!) here:
https://goo.gl/photos/RsPDZnUNWhyYZNuF8