Sunday, July 1, 2012 - 32 animals were sterilized today by
Dr. Andrés Tello, our wonderful veterinarian. In addition, he performed two abortions, and from already sterilized dogs he removed three belly tumors, a venereal tumor, amputated a leg, and examined a few other dogs/cats that had already been sterilized but had other health issues.
---
We sterilized 26 dogs and 6 cats. Of the dogs, 20 were female and 6 were male. Of the cats, 4 were female and 6 were male. Sterilization of females requires more time and we had mostly females today, plus the lengthy removal of the venereal tumor from a male dog, the three belly tumors from a female dog, and the amputation. So it was a long, tiring day! None of this important work could be done without Dr. Andres Tello, and we are all so very grateful for him!
As usual for our clinics, it was a beautiful day - no wind, no rain. I "order up" good weather for the clinics!
I have a slight "rant" regarding this clinic. Some people (gringos) had made an appointment to have their female dog sterilized at a previous clinic, then cancelled. They then brought her to a subsequent clinic, but Dr. Tello said the dog was now pregnant, was due to deliver very soon, and he did not want to perform a late-term abortion. Afterward, the dog soon delivered 10 puppies.
At this July 1st clinic, they brought the mother dog and 7 of the puppies (which were now two months old) to be sterilized. I have never seen dogs at our clinics before that had so many fleas! The puppies looked like someone had heavily sprinkled them with coarse-ground black pepper. We immediately applied Fipronel, which rapidly killed a lot of the fleas, but there were plenty more alive. In addition, the puppies tummies were filled with tape worms. (I won't go into the visual details of our volunteers pulling them out - but there were many more left inside the puppies and I hope the people will treat the puppies for tape worms - we told them what to administer.) You'd think gringos would know better, but obviously not.
Thankfully, they brought 7 of the 10 puppies to be sterilized even though all but one has been "spoken for." Who knows what will happen with the other 3 puppies. Two were given to a Panamanian woman who said she would bring them to this July 1st clinic but she didn't show up. Another puppy went to a Panamanian man, who "promised" to have the male puppy sterilized. If these remaining three are not sterilized, it will negatively affect what we are working so hard to accomplish here. Remember: In 6 years a female dog and her off springs can be the source of 67,000 puppies. In 7 years a female cat and her off springs can be the source of 420,000 kittens.
I'm glad the appointment for these flea-infested dogs was later in the day, because afterward there were fleas galore in the clinic building....I wonder how many other dogs and cats were infested with fleas that came after them....and I worry about the health of these puppies that suffered bites from thousands of fleas! I and our volunteers received flea bites, and the clothes of many of us were infested.
When Jose and I went to clean and organize the clinic on Monday after the clinic, there were piles of dead fleas on the tables, plus plenty of live ones jumping around in the large amount of animal hair Jose swept from the floor. Plus, I had to bring the flea-infested blankets home to wash. I've never had a flea problem at my house with my dogs, but I'm sure I will now have to treat all of my own dogs for fleas.
Since we began the clinics in March of 2006, I have never before seen dogs or cats with such a heavy flea infestation that these puppies had. I consider it very discourteous (by people who should know better!) to expose other animals and people to flea infestation by bringing such heavily flea-infested dogs to the clinic. A thorough bath before bringing them would have washed off most of the fleas.
---
Very good news! I think we have finally reached "critical mass" for the sterilization clinics in Volcan! For the last couple of months, the clinics have begun to fill up very rapidly. We already have 38 reservations for the July 22nd clinic! I will quit taking reservations at 45, knowing that some people who have appointment will not show up, and other people will come who do not have appointments.
Within a day or two before each clinic, Jose and I always call everyone who has an appointment to confirm. Amazingly, a few people who say "yes, I will be there" don't come OR call to cancel. I keep a file of those people and if they want to come to a future clinic, they are welcome, but they can only come without an appointment. In that event, they may have to wait for several hours - and hope we will have time for them. People are learning, though. We had a few appointments scheduled for this and previous clinics by people who had the courtesy to call and cancel beforehand if they were not able to come. Those people will certainly be able to make an appointment for a subsequent clinic.
---
Please donate! Your PayPal tax-deductible donations for Chiriqui go through Spay Panama's Animals YES in the USA and are eventually forwrded to me. Please send me an email if you donate by PayPal so I can thank you personally!
If you donate via PayPal, it often takes a long time for the funds to reach me. (See income and expenses below.) If you are local to Panama, please consider donating directly to me. If you're not able to donate in person, I can give you information about how to deposit to my bank account. Thank you!
Donors and amounts are reported on my web page for each clinic. Income and expenses are listed on each clinic web page. Thank you for your help! Your contribution helps make Spay/Panama-Chiriqui services possible. PLEASE BE AWARE that if you donate through PayPal, I cannot credit your donation on my web page until I actually receive the funds. If you have donated through PayPal and your donation has not been credited on my web page, please contact me.
---
Anyone who is local to Volcan, PLEASE talk with your friends and neighbors, explain the importance of proper sterilization and tell them about our clinics. My goal is to sterilize at least 30 animals during each clinic. Our next clinic will be on July 22nd, 2012.
---
MANY thanks to our wonderful volunteers and contributors. Without their help and dedication, ths important work simply could not be done.
Cristina Espinosa did a good job with registration. She is only 12 years old and is the daughter of my employee, Jose Espinosa.
Deirdre Doyno and Ericka Famania administered the anesthesia, shaved and prepped the animals, and gave the pre-op injections of antibiotics and anti-inflammatory, and put mineral oil in the eyes of the animals so they would not dry out, and performed whatever other duties were needed.
Jose Espinosa, my permanent employee, helps weigh and tag the animals, provides transportation for animals when necessary, and helps with various duties. Jose and I go to the clinic site on Mondays following the Sunday clinics to clean and organize for the next one.
Rosemary Rios, Yanitzel Famanía, and Francia Pinedo assisted Dr. Tello, gave post-op injections of B-complex and antiparasite. They dressed the incisions, took the temperature of the recovering animals, tattooed the ears of female dogs, gave flea and tick treatment, and generally checked the well being of the animals.
Alejandro Espinosa, the 11-year-old son of my employee, cleaned and sterilized the instruments.

Again, we had a great team of volunteers today and everything ran very smoothly!

---

We had a lot of delicous food for the doctor and the volunteers! Thanks to everyone who contributed: Mary Ann White contributed pulled pork, rolls, a chicken salad, chips, and other condiments; Connie Eberyly brought a wonderful German cake. There were enough drinks from two previous clinics but I will request more for the July 22nd clinic. I took corn chips and Mexican salsa made from my organic cherry tomatoes. (Dr. Tello LOVES the hot stuff!) We didn't have fruit for this clinic.

Please forgive me if I have neglected to mention any volunteers or contributors!
---
---
Income and expenses:
| | |
| --- | --- |
| $ 748.00 | contributions by guardians |
| 500.00 | cash donation by Ruth King and Charley Van Clief |
| 72.30 | cash donation by David Gilles ($75 minus PayPal fee) |
| 97.50 | cash donation by James Penowich ($100 less PayPal fee) |
| 5.00 | cash donation by Sal White |
| 5.00 | cash donation by Martha Cary |
| 20.00 | cash donation by Mary Ann White |
| $1,447.80 | TOTAL CASH CONTRIBUTIONS |
At this July 1, 2012 clinic, Dr. Tello sterilized 26 dogs and 6 cats. In addition, he performed two abortions, removed three belly tumors from a female dog, removed a venereal tumor from a male dog, and amputated the leg of a dog. With my average cost (for sterilizations) of $22 per dog and $11 per cat, expenses were $638 for sterilizations, plus $125 for other surgical procedures performed by Dr.Tello, plus $100 for building rent, for a total of $863. With contributions of $1,447.80, there was a positive cash flow of $584.80! Therefore, my accumulated deficit is reduced to $2,039.21. My hearfelt thanks for all the generous donations!
I very much appreciate any and all contributions. They are welcome and needed!
---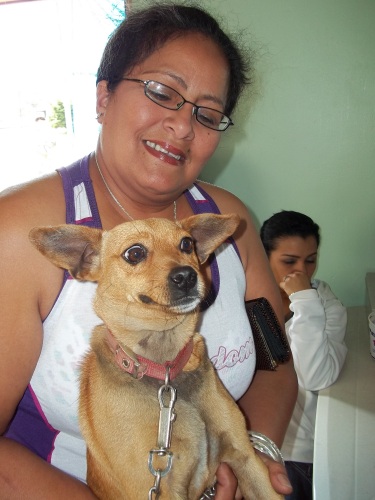 Lots of great pictures were taken during the July 1, 2012 clinic. To see the rest of the pictures, click HERE.
When you click on the first picture, it will enlarge and then you'll see the narrative at the bottom of the picture. There are arrows at the side (or the top, depending on your version of Picasa) to advance the pictures.
---
Here in Volcan, our small group has been responsible for sterilizing 1,628 dogs and cats to date. Added to the 129 animals that Spay/Panama (from Panama City) sterilized in in Volcan in February of 2005, we have sterilized 1,757 dogs and cats! There are many more to go, but we are making progress! Our goal is to sterilize at least 75% of the dogs and cats in the Volcan area, and thus almost completely solve the problem of homeless dogs and cats, and the terrible venereal disease suffered by so many dogs.
Thanks to everyone who participated in our clinics today, and to those who had their pets sterilized. Always remember that TOGETHER WE CAN MAKE A DIFFERENCE!
Dorothy Atwater - 6780-2565 or muffiemae@gmail.com
skype US telephone: 281-725-6198
skype: muffiemae
Back to Clinics Page
Back to HOME PAGE