Sunday, November 17, 2013 - 25 animals were sterilized today by
Dr. Andrés Tello, our wonderful veterinarian.
---
Dr. Tello sterilized 16 dogs and 9 cats. Of the dogs, 15 were female and 1 was male. Of the cats, 7 were female and 2 were male.
---
Although the number of dogs/cats we sterilized today (our final Spay Panama-Chiriqui clinic of 2013) was somewhat disappointing), those of us who work the clinics every month, year after year, welcomed an earlier end of the day. We are all really tired! Nevertheless, in 2013 we sterilized 426 dogs and cats, with an average of 38.7 animals sterilized each month over 11 months...which is a very acceptable average considering we have only one (excellent) veterinarian.
Considering that in 7 years a female cat and her off springs can be the source of 420,000 kittens, and in 6 years a female dog and her off springs can be the source of 67,000 puppies, our work and efforts have prevented literally THOUSANDS of dogs and cats being born, most of which would lead short lonely lives of suffering. (Even while they continued to have sex and give birth to other puppies/kittens that would also suffer horrible lives.)
A female cat can become pregnant as early as four months of age; usually for a female dog, it is six months of age - or earlier. So it is very important to spay/neuter the dogs and cats before they reach sexual maturity to prevent them from continuing the overpopulation problem that we at Spay Panama-Chiriqui work diligently to overcome...and to stop the venereal disease/tumors that are rampant in Panama among dogs. A single "sexual encounter" with a male to female when either is infected, the other is then infected...and is passed on and on. These venereal tumors are internal and cannot be detected until they are very advanced...and are eventually fatal to the dogs, to both males and females. Our veterinarian, Dr. Andres Tello, is the only veterinarian who is capable of surgically removing these venereal tumors...and in rare cases, administering chemotherapy if necessary.
In the past we (and Dr. Tello) did not charge extra for removing these venereal tumors. But now, because the surgery is much more complicated, the minimal charge will be at least $50 - which will include spaying or neutering the dogs. For your and your animal's benefit ( and your financial benefit) arrange to spay/neuter your animals at our clinics while they are very young!
---
Thanks and blessings to all of you who brought animals to our clinics to be sterilized (this year and all earlier years), and to those who donated financially, and to Dr. Tello and our wonderful volunteers.
We had a beautiful day during the clinic, which is normal. (I always ask God/the Universe for good weather during our clinics, and my request has always been granted.)
Everything considered, we had a fairly normal day. One very WILD cat escaped inside the building and Don Binder was able to catch her without too much drama - and/or injury to himself. Don also received a minor bite from a dog. Our wonderful volunteers know how to control and deal with animals! Rosemary Rios is another volunteer who is a "cat expert."
---
Although we had many more animals on the schedule for this final clinic of 2013, (1) several were "no-shows" without bothering to call and cancel; (2) a few called to cancel at the last minute; (3) and several who had planned to bring feral cats and/or streets dogs but could not find the animals at the time. I cannot express sufficient gratitude to those Panamanians and expats who bring dogs/cats to the clinics to be sterilized, especially when those animals don't even belong to them, and those who try, but can't find the animal on that particular clinic day.
As for the "no shows" who don't come and haven't bothered to call and cancel, I keep a list of those people. I find it unacceptable that they have not extended the courtesy of calling to cancel if there is a reason they can't keep their appointment. Those people will be allowed to bring their dog/cat to a subsequent clinic, but they will NOT be put on the schedule at a particular time. They have to wait (sometimes many hours) until the people with confirmed appointments have been served. (I am also considering charging them extra in cases like this.)
---
Please donate! Your PayPal tax-deductible donations for Chiriqui go through Spay Panama's Animals YES in the USA and are eventually forwarded to me. When you click the donate button below, it will specify that your donation is for Chiriqui. Please send me an email if you donate by PayPal so I can thank you personally!
If you donate via PayPal, it often takes a long time for the funds to reach me. (See income and expenses below.) If you are local to Panama, please consider donating directly to me. If you're not able to donate in person, I can give you information about how to deposit to my bank account, either in Panama or in the US. Thank you! I can give you a tax-deductible receipt for your US tax return.
Donors and amounts are reported on my web page for each clinic. Income and expenses are listed on each clinic web page. Thank you for your help! Your contribution helps make Spay/Panama-Chiriqui services possible. PLEASE BE AWARE that if you donate through PayPal, I cannot credit your donation on my web page until I actually receive the funds. If you have donated through PayPal and your donation has not been credited on my web page, please contact me.
---
Anyone who is local to Volcan, PLEASE talk with your friends and neighbors, explain the importance of proper sterilization and tell them about our clinics.
---
MANY thanks to our wonderful volunteers and contributors. Without their help and dedication, this important work simply could not be done. No one except the doctor receives any payment. Every penny goes for the animals.
Cristina Espinosa did a good job with registration. She recently had her 14th birthday and is the daughter of my employee, Jose Espinosa. Cristina has been our registrar for at least two years.
Don Binder, Jahir Costello, Yiniela Rodriguez, and Rosemary Rios weighed the animals, administered the anesthesia, shaved and prepped the animals, and gave the pre-op injections of antibiotics and anti-inflammatory, put mineral oil in the eyes of the animals so they would not dry out, and performed whatever other duties were needed.
Jose Espinosa, my permanent employee, helps weigh and tag the animals, provides transportation for animals when necessary, and helps with various duties. He also takes my car to pick up and deliver animals when necessary. Then Jose and I go to the clinic site on Mondays following the Sunday clinics to clean and organize for the next one.
Rosemary Rios and Maria Cristina Montenegro assisted Dr. Tello, gave post-op injections of B-12 and antiparasite. They dressed the incisions, took the temperature of the recovering animals, tattooed the ears of female dogs, gave flea and tick treatment, generally checked the well being of the animals, and performed whatever other tasks were necessary.
Helping them and pitching in wherever necessary were new volunteers. Lisa Dahlmann and Rebecca Rothenheber from Germany have volunteered twice. They will be in Panama for 11 more months. They speak excellent English. They are volunteering through CAFS at FUNDICCEP in Panama. They both learned very quickly and did a great job at the clinic. Joining us also this month from Germany was Anelene Wedding, also from Germany and also a volunteer in Panama with her friends as mentioned above.
Alejandro Espinosa, the youngest son of my employee Jose Espinosa, cleaned and sterilized the instruments.

Again, we had a great team of volunteers and everything ran very smoothly!

---

We had a lot of delicious food for the doctor and the volunteers! Thanks to everyone who contributed: Kate Stamm for a delicious main dish (which was completely consumed within 30 minutes after she delivered it!); Don Binder for dessert, Lynn Gohlman for drinks, and Amanda Rankin for a fruit plate.

Please forgive me if I have neglected to mention any volunteers or contributors!

And also many thanks to those who who donated funds, and to those clients at the clinic who donated more than my costs....especially to Gordon Bakke who contributed $100 to spay his newly adopted female dog. (Well, actually she adopted Gordon and Anne, which is often the situation here. All of my 14 dogs have chosen me as "parents" and each knew that I am "trainable.")
---
---
Income and expenses:
| | |
| --- | --- |
| $ 575.00 | contributions by guardians/owners |
| 20.00 | cash donation by Cynthia Schultz (local) |
| 20.00 | cash donation by Dee Sund (local) |
| 25.00 | cash donation by Al Jan (Texas) |
| $ 640.00 | Total Cash Contributions |
*Note: Howie Elder donated $25 via PayPal on October 5th. He immediately received a receipt but the funds have not yet reached me. I can't credit his contribution to Spay Panama-Chiriqui until I actually have the funds. This is not the fault of PayPal. Funds donated for Chiriqui via PayPay go to an affiliated organization in the US; then it is their responsibility to transfer the funds to Patricia Chan/Spay Panama in Panama City, who is then to transfer the funds to me. Sometimes there is confusion (and delays). That's why I ask that people who contribute via PayPal to let me know so I can keep track.
---
At this November 17, 2013 clinic Dr. Tello sterilized 16 dogs and 9 cats. With my average costs for sterilizations of $25 per dog and $15 per cat, expenses were $535 plus $100 for rent of the building, equals $635. After contributions of $640 there was a surplus of $5. (Thank you; every dollar counts.) My current out-of-pocket expenses are now reduced by $5.00 and leaving a deficit of $2,073.66 from my own pocket.
I will continue organizing and financing these clinics as long as I am physically and financially able to do so. I'm now almost 73 years old but I continue to be very healthy.
My heartfelt thanks for the generous donations of those who have contributed in the past and who will contribute in the future!
I very much appreciate any and all contributions. They are welcome and needed!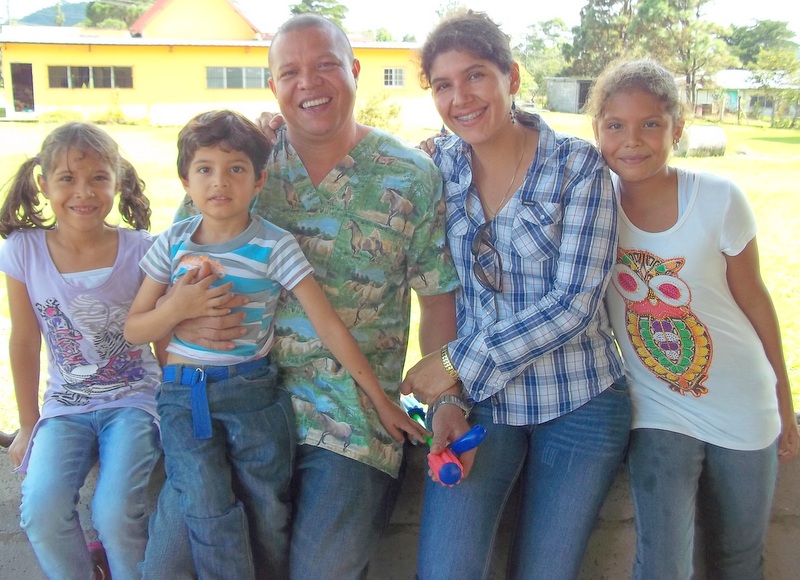 This is Dr. Andres Tello and his beautiful family. I was fortunate to be able to take this picture at the end of the clinic day. (Last month we had pictures of his daughters, Enid (far left) and Naomi (far right), but here is the entire family. Dr. Tello is holding his son, Emanuel. Next to Dr. Tello is his beautiful wife, Ana. Time passes so quickly - I remember when Ana was HUGELY pregnant with Emanuel, and now he is four years old. They are a wonderful family that I feel very fortunate to know.
For other pictures taken during the clinic, click HERE.
---
Here in Volcan, our small group has been responsible for sterilizing 2,215 dogs and cats to date. Added to the 129 animals that Spay/Panama (from Panama City) sterilized in in Volcan in February of 2005, we have sterilized 2,344 dogs and cats! There are many more to go, but we are making progress! Our goal is to sterilize at least 75% of the dogs and cats in the Volcan area, and thus almost completely solve the problem of homeless dogs and cats, and the terrible venereal disease suffered by so many dogs.
Thanks to everyone who participated in our clinics today, and to those who had their pets sterilized. Always remember that TOGETHER WE CAN MAKE A DIFFERENCE!
Dorothy Atwater - 6517-8752 or muffiemae@gmail.com
skype US telephone: 817-391-1477
skype: muffiemae
Back to Clinics Page
Back to HOME PAGE
hit counter